Want to block unwanted calls? Seems simple and easy but believe it or not, it isn't. Even with modern devices and technologies in 2015, blocking unwanted calls is not an easy thing to do but fortunately there are some ways to do this efficiently and most importantly effectively. Let's talk about some easy ways to block unwanted phone calls on your phone.
Block Unwanted Calls Using Built-in Feature
Amazingly some modern devices come with built-in feature for blocking unwanted phone calls and even messages. Most of the new Samsung devices like Galaxy Note 4 and Galaxy Note Edge have already this feature. You can find this feature in call settings >> reject list. Or in some devices you can find this feature in settings menu. Obviously this solution is not possible for all the users but it is still the easiest one if you device has this built-in feature; if you are not sure about your device having this feature, then search relevant forums to get information about your device model.
Contacting Your Carrier
This is not a widely used and popular way to block unwanted calls because of some obvious reasons like not all carriers offer this and you have to contact your carrier every time you want to block unwanted calls from a specific number. On the other hand, sometime the whole process could be time consuming. There is another restriction too; some carriers allow users to block a limited number of phone numbers. So, if this is the last solution then contact your carrier via their customer service contact number and ask them to block calls from some specific numbers. Unfortunately some carriers charge monthly or onetime fee for this, so ask them about the additional charges beforehand.
Use 3rd Party Apps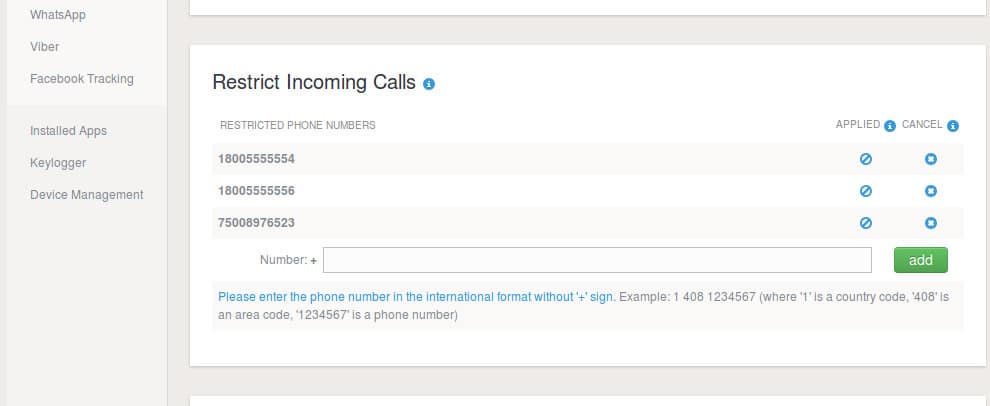 If you have an Android or iOS device then there is no need to contact your carrier asking to block unwanted phones calls on your number because you can do this yourself via some 3rd party apps and service available today. Though there are many different 3rd party apps and services available for mSpy is one of the best options out there. You can learn about it from
their official website
; almost all of the 3rd party
call and sms tracker apps
for this purpose allow users to block unwanted calls from specific numbers and some even allow blocking unwanted messages. It is easy as having a built-in feature in your device without any hassle.