Tired of getting unwanted phone calls and messages on your mobile phone? It's time to know how to stop annoying calls on your number. Unfortunately blocking annoying incoming calls and messages is not as easy as it sounds because there is no such switch you can turn on and off to get rid of those calls and messages but luckily there are more than one ways to get it done without much effort. Let's talk about the ways to block annoying calls.

Phone Native Feature
If you own a Samsung phone then you are among very few lucky people who have built-in call blocker in their phone but not all of the Samsung phones come with this feature. Some modern devices like Samsung Galaxy S and Samsung Galaxy Note series have this built-in feature. All you have to do in order to stop annoying calls is enter the unwanted numbers in the reject list and the phone will do the rest. You can manage that blacklist from call settings >> reject list. If you are not sure whether your phone has this feature or not, search online forums and knowledge base to get information about your phone model.
Stop Annoying Calls Using 3rd Party Apps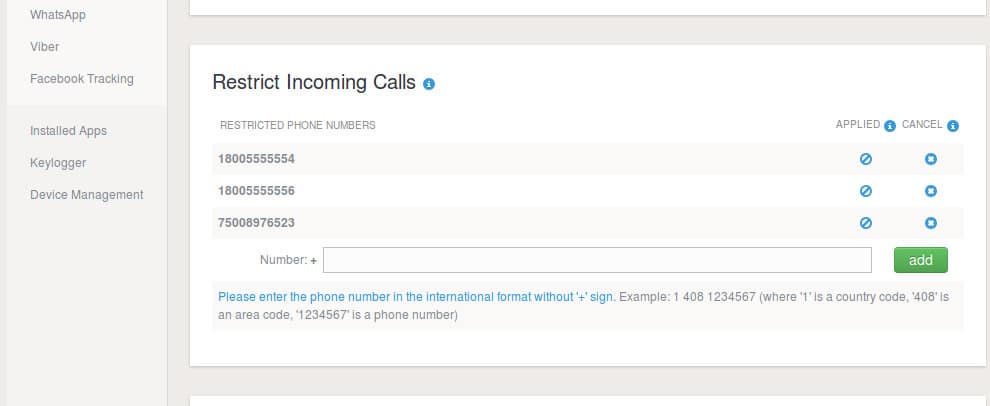 3rd party
apps like mSpy
, Mr. Number and Call Bliss can allow users to use block in order to stop annoying calls and messages on their phones. Mr. Number is available for Android devices, Call Bliss is for iOS devices and mSpy is available for
both of these operating systems
. These apps are not only easily to configure but apps like mSpy lets users manage their white list and blacklist from web portal too which is not only much convenient way to configure the settings but also serves different operating systems with the same user interface.
Get help from carrier
In the worst case scenario, you can contact your carrier and ask them to block calls and messages from some specific numbers. Most of the carriers allow users to stop annoying calls and messages from limited number of phone numbers and this policy varies. Some carriers also charge additional fee for this kind of additional features; you can get information from your carrier's official website or via their customer support line. Unfortunately not all the carriers offer this feature and if your carrier doesn't support blocking calls and your phone does not have built-in feature for this purpose then installing a 3rd party app is the last possible solution of this problem.