It's easy to see numbers of people using free Whatsapp online chatting app on their phones, that's why many also look for tracking spyware to read someones messages history – and now you can check these hacking options by yourself.
mSpy
WhatsApp is a popular IM sharing app used and downloaded globally, available for Android and iPhone phones. It is free and folks love to easily share mobile conversations, receive pictures, audio and videos they get without any fees. People of all ages can use this IM software on their smartphones to read shared chats and multimedia messages.
TOP 3 Whatsapp Tracking Apps
SpyBubble
31.99
Support OS: Android 4.0+, iOS 8+ (phones only)
Spy on SMS / Call logs / Mails
spy on Internet
Spy on Facebook, Whatsapp, Skype
Mobilespy
30.99
Support OS: Android 4.0+, iOS 8+ (phones only)
Spy on Facebook, Whatsapp, Skype, Telegram, Viber
spy on Internet
Spy on SMS / Call logs / Mails
  Many install WhatsApp as a media to interact with their friends and this is the reason for others to look for the best method to view into somebody else's WhatsApp. If you want to see WhatsApp history log of your kids, spouse, gf/bf or employee for the reason of tracking their activities using spyware, but don't know how to set the interception up; then it is possible by finding a monitoring tool to spy on their WhatsApp accounts remotely.
Benefits of WhatsApp Tracing
There is a huge difference between hacking and spying. First one is illegal and done for wrong activities; but checking on cellphones of personal relations or employees becomes a reason to keep their trace. One's children might be saved from going on wrong path if they are under monitoring. The employees show more productivity in work and don't involve in any third party communications or illegal activities, which may harm the reputation of the company. If someone's kids went astray, they will be caught immediately by using WhatsApp monitoring spyware.
Spy with WhatsApp Tracker
There are only two ways for WhatsApp Spying:
MAC Spoofing
Follow the next steps to trace somebody else's WhatsApp for free by MAC Spoofing:
Uninstall WhatsApp from own smartphone completely. It may be downloaded again later, but one time uninstall is mandatory.
Get Physical Access to the cell that has to be traced.
Find out Media Access Control info of the desired device. It is unique for gadget.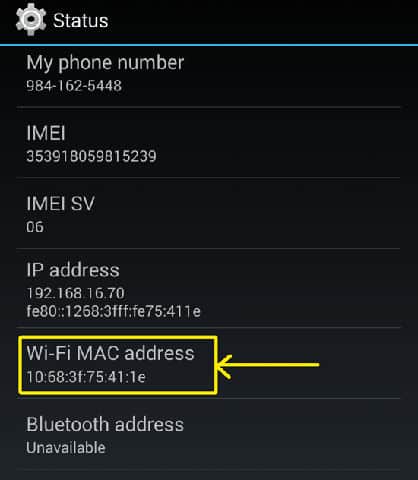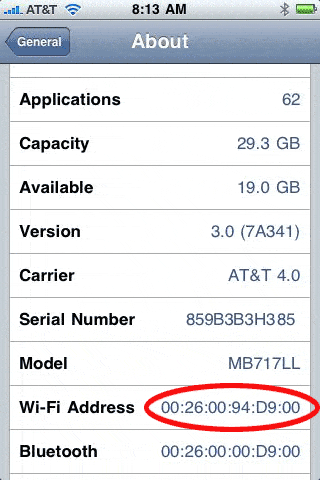 Identify
MAC numbers:
iPhone
: Settings > General > About > Wi-Fi Address
Android
: Settings > About Phone > Status > Wi-Fi MAC Address
BlackBerry
: Options > Device > Device and Status Info > WLAN MAC
Windows
: Settings > About > More Info > MAC Address
Note down this info of your own phone separately by using same process.
Replace first cellphone's numbers address with the ones from second cell. WhatsApp will read it and use as targets. In Android, download Terminal Emulator and BusyBox from Google PlayStore. It will identify necessary information with its own interfaces. Choose the interface and make sure that desired numbers were changed successfully. On iDevice, look for spoofing services like Wifispoof or MacDaddy X for altering this data.
Set WhatsApp up on first device and enter target's number.
Confirmation code will be sent to the target device and needs to be verified immediately. Verification text has to be deleted, if there's a need to see its activity discreetly. Your mobile will start to receive WhatsApp messages as well.
This address can be changed later, if there's no need for tracing anymore.
Install Spying Software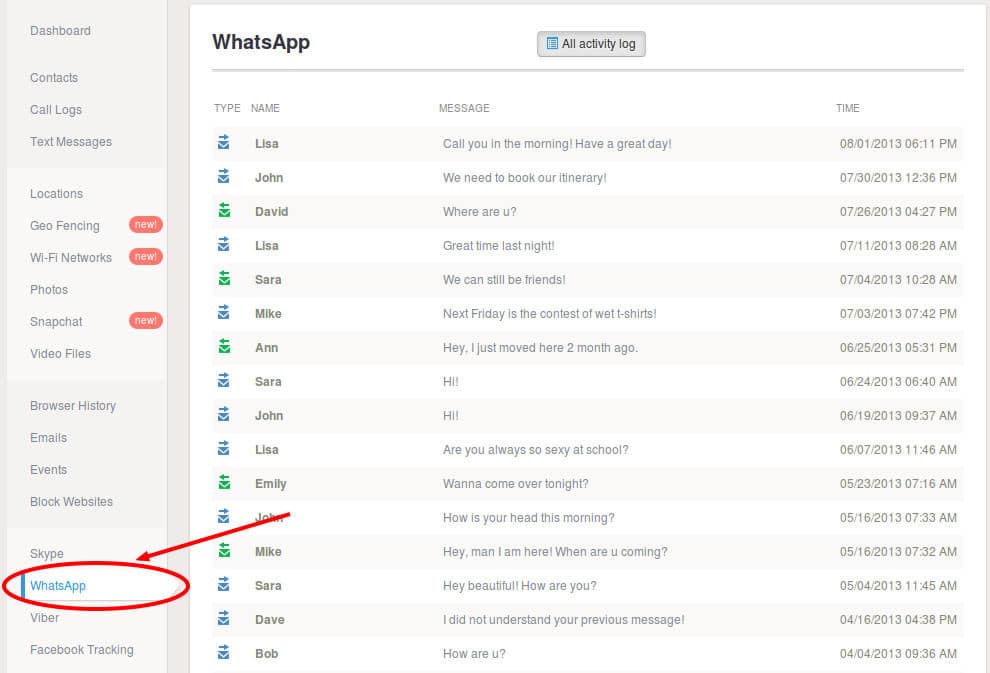 Receive permission from the other person whose chats you plan to read. Cellphone tracker applications like mSpy spyware are designed to monitor accounts of kids, spouses, employees to track their activities by parents, partner or employers. There is a consent required for monitoring the targeted persons (boyfriend or girlfriend for example), but in case, parents want to look into their children's logs or husband/wife wishes to spy on their kids; they may skip this part and don't worry about receiving permission before proceeding.
There are a number of smartphone spyware apps available for people and you need to search out the best one working in the most appropriate way for intercept someone's history log. mSpy is the widely used online tool for every common OS monitoring.
Buy spy software subscription and once it is done, spyware app can be installed. Remember, it can't be finished with no physical access over the device. You will need to set up mSpy spyware on the gadget you want to hack and once it is done, the interception process will begin immediately. After installation of monitoring application, the user will have no idea about its presence in their OS. This is how hidden tracing works without user knowing that they are being spied.
Start tracking WhatsApp immediately and easily get all information at any remote location through laptop, PC, own mobile or iDevice. All monitored information about the target person will be accessible and it will be possible to check all their activities without missing any essential traces.
In Conclusion
Tracking tool is a best monitoring solution as there will be no chance of missing out any details, all the shared conversations and multimedia files will be saved on the remote location. The user is able view chat history at any time and even keep its track for later use.