Though it is possible to block unwanted calls on your number using an Android or iOS device but finding the best call blocking app for your situation needs some efforts. Some manufacturers like Samsung (in some phones) allow users to do that by using the native features of their phone but that built-in call blocking feature comes with limited functionalities and probably you won't be able to find it because due to some unknown weird reasons, manufacturers bury that feature deep in settings. Following are some 3rd party apps which you can download and install on your Android or iOS device to block annoying calls easily.
mSpy (Android and iOS)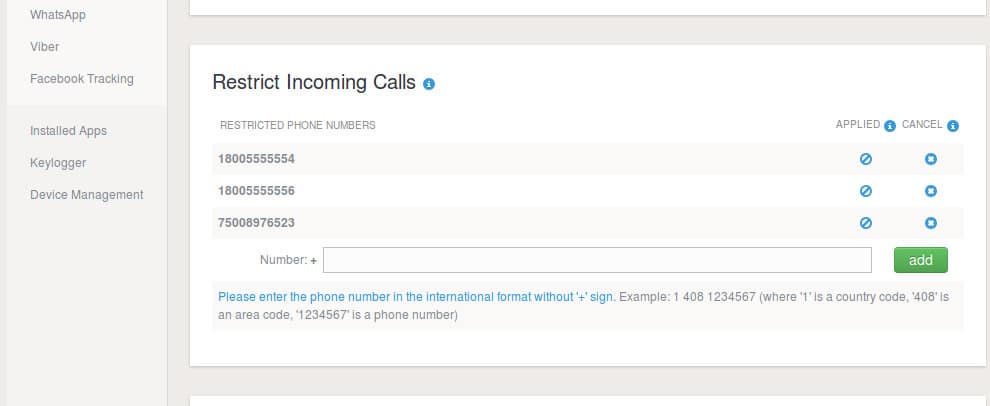 The biggest advantage mSpy has over other similar call blocking apps and services are its compatibility with Android and iOS both. mSpy allows users to block unwanted calls from any number very easily. Amazingly users can control the features of this app via the web portal that grants access to the device. Its industrial built design and call blocking features makes it a must-have app on company's devices to restrict unwanted calls.
Call Control (Android)
Call Control is one of the most popular apps being used for this purpose but unfortunately this amazing call blocking app is only available for Android devices. You can download and install Call Control on your Android device from Google Play Store. Call Control allows users to enjoy its advanced features for free for 14 days and after that it automatically converts to "Lite" version with limited features. Users can get their hands on the full version for $8.
Call Bliss (iOS)
Call Bliss is a call blocker app that is available for iOS devices. Call Bliss comes with a simple yet great feature; like other call blocking apps and services, Call Bliss allows users to create blacklist and put unwanted numbers in that list to block calls and messages from those numbers. It also allows users to create white list and put specific allowed numbers and all other calls will be blocked. Unfortunately Call Bliss does not have a very attractive user interface but the app does work quite effectively in every situation.
Extreme Call Blocker (Android)
Extreme Call Blocker not only blocks unwanted calls but it also works on unwanted messages. This call blocking app comes with some additional features that allow users to set configurations to treat unwanted calls. It can mute the ringer, redirect calls to voice mail and even pick and hang up calls automatically.