Every one of us has probably felt the urge to read someone's text messages at some point — it's called curiosity. Maybe you've wondered — 'Why did my son receive ten missed calls from an unknown number at 3:00 AM?' or 'Who did my girlfriend send that selfie to?'

Most of the time, there are innocent answers to these questions — but sometimes there aren't. And you may be surprised to find yourself in a situation where you might need to check on your kid because they're vulnerable to cyberbullying and online predators. Or perhaps you want to find out once and for all if your partner is a cheater. 
The solution is a bit of additional control. All you need is advanced spy apps that let you spy on your loved ones and remain invisible.
There are free versions of the monitoring tools, but not all of them are entirely safe. They may carry viruses and malware that can seriously damage your phone or computer — so don't fall for this trick!
Hence, if you want to monitor your loved ones safely — you're going to have to invest in the software to help you.
So let's explore your options and find out the details.
Table Of Contents
How to Read Text Messages From Another Phone for Free?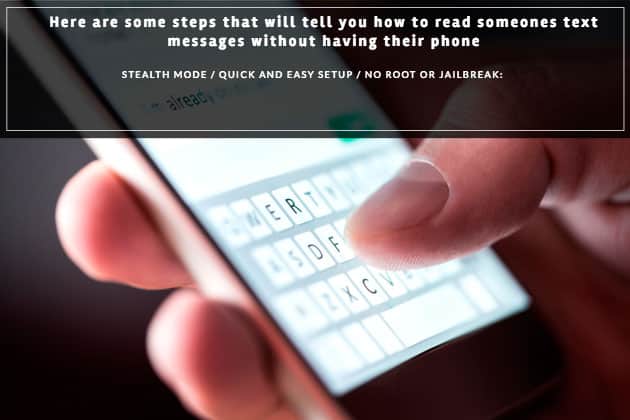 The best way to secretly view a text message from another phone is by using an undetectable monitoring app. With this kind of tool, you can get access to nearly all the applications and important account details on the target phone: SMS, iMessage, call history, browser history, GPS location, installed applications, social networks, and messengers.
There are lots of apps to choose from, and most of them come with a free trial option that allows you to use some basic features. With a free trial, you will have no trouble reading someone's text messages.
And the best part is that anyone can use these apps without any technical knowledge. The software uses an individual phone's IMEI (International Mobile Equipment Identity) to access and track it.
How to Read Someone's Text Messages Without Their Phone?
So now you know that it's possible — but how? Most spy apps only require you to have the target phone for about five minutes, just to install the software. 
The first thing you'll need to do is select a spy app and install it. There are lots of great options for all your spying needs. If you do a little research, you'll definitely find an app that is credible and undetectable. Some spy apps provide you with near-full access to all of the information on the phone that you can manage remotely.
Once you install your selected spy app on the target phone, you can read all their text messages, from WhatsApp, Snapchat to Instagram and Facebook Messenger.
These spy apps use sophisticated and untraceable technology. They can even track information that a person might have deleted before you can see it.
How to Read Someone's Text Messages Without Installing Software on Their Phone?
Unfortunately, there is no legitimate tracker app that can do this. All secure spyware of this kind will require installation on the target device. The one exception is if the device you are monitoring is an iPhone, and you have the Apple credentials (ID and password).
Luckily though, the installation of a spy app is quick. And you only need to be physically touching the phone for about five minutes. Besides, apps like mSpy have an excellent Client Support Team to help you through the process. They are available 24/7 via chat, phone, and email — and they are happy to assist you through every step.
How to See Other People's Text Messages Without Them Knowing?
There is no easier way to see other people's text messages than using spy apps. Most tracking and monitoring apps are completely undetectable, and the mechanism behind this spy technology is simple. After it has been installed, the app vanishes into the background and becomes hidden. So you can rest easy knowing that whoever you are spying on will have no idea.
During the installation process, you will have made a user account on the spy apps' website. Once the installation is complete, it will start collecting data automatically. Then it constantly uploads the information to your personal account, where you can view it easily and remotely without anybody knowing.
Is It Real to Enter Cell Number and Read Texts?
Yes, it's truly as simple as that. All you need to do is enter a cell number in the field below, and you will see all conversations your target has been exchanged.
How to Receive Text Messages From Another Phone Number?
If you'd like to use a spy app to start tracking someone's text messages, the process is pretty similar for both Android and iPhone devices.
Installation Guide for the iPhone
Make sure the Apple device you are targeting is "

jailbroken

."

Select a monitoring app and sign-up.

Install the software on the target iPhone.

Receive your login information in a welcome email.

Sign in to your user-friendly Control Panel.

Start spying.
You do not necessarily have to jailbreak your target iPhone. All you need to link the target device to your account is their Apple Credentials. However, if two-factor authentication is enabled, jailbreaking and installation are required. 
The installation process takes no more than 5 minutes, and the app will be running in the background.
Installation Guide for the Android Device
Choose a  spy app that meets your requirements well and sign-up.

Receive a welcome email with further guidelines.

Install a spy app on the target Android device.

Get access to the Control Panel.

Get spying.
Is It Real to View Text Messages Using IMEI?
Yes! Every phone has a unique IMEI. It identifies the individual device and its exact model.
Like services where you can input a phone number, you can also input an IMEI to view someone's text messages. You can do so by entering your target's IMEI in the field below.
What Apps Have Free Trial to Spy on Text Messages?
There are quite a few tracking apps out there that allow you to spy on someone else's phone for free for a limited time. Here are a few options!
mSpy: Has a demo on the website and offers a 7-Day Free Trial.

KidGuard: Offers a 10-Day Free Trial period.

Hoverwatch: Offers a 3-Day Free Trial.

SpyRen: Offers a short 2-Day Trial.

Spyera: Has a 10-Day Full Refund policy.
You should remember that even with the paid spy apps, they may offer different features. And each offers a limited amount of them for the free trial. You usually get access to the most basic or popular options. 
But don't worry, all of the above allow you to read text messages during the free trial period.
Reasons to Get Text Messages From Another Phone Sent to Mine
In an ideal world, we wouldn't have to spy on anyone. So you might be asking yourself, 'Why would I ever need to access another person's phone, intercept their private text messages, and have them sent to mine?'
Unfortunately, we all know that there are lots of reasons why — and the world is far from ideal. Lots of people may find themselves in a situation where they need to start tracking activity on someone's cell phone.
You may be a parent worried that your child might be vulnerable to cyberbullying or online predators. You never know when a kid will fall in with the wrong crowd — and there's nothing wrong in checking on them. Or perhaps, you're a concerned spouse, and you'd like to know if your husband or wife's unusual behavior is a cause to believe that they're going to cheat.
These are tough situations, where you are likely to have no other options. But when it comes to your safety, well-being, or future, you must know the truth. 
Now you know that there are lots of great spy apps out there, and even some services out there that allow you to spy on another person with numerous options. While you have a quality app that allows you to read someone's text messages, mSpy will be the best choice to meet all your needs.
End Words
You may have different reasons to wish to check your loved ones' or employees' messages. Kids are vulnerable, and extra care and attention from parents will do them only good. Learning more about your partner's private messaging can save you a lot of time and nerve. Whatever the reason would be, you will appreciate the advantages of mSpy, which is definitely the winner in this rating.
FAQ
What Is the Best App to Read Text Messages From Another Phone Without Them Knowing for Free?
mSpy, no question. It's an undetectable app that can spy on nearly all features of the target phone.
What Apps Have Free Trial to Spy on Text Messages?
mSpy, Spyera, Hoverwatch, KidGuard, SpyRen offer free trials.
Yes, most of them are undetectable, or you can hide them immediately after the installation.
Do I Need to Root the Target Android Phone to Check Messages?
It depends on which monitoring app you choose: some have plans for Android phones that have not been rooted, and some don't. The app, like mSpy, provides you with unlimited access to the text messages on the Android device.
Do I Need to Jailbreak the Target iPhone to Check Messages?
Like Android, it depends on which spy app you choose — some offer plans for non-jailbroken iPhones, and some don't. If you select mSpy, you can track the texts on either a jailbroken or non-jailbroken iPhone.