On average, people spend about 23 hours every week texting. As such, text messages are an essential part of our daily lives. They allow us to converse conveniently and securely.
Therefore, text messages are one of the most surefire ways to get information on someone's activities. If you want to keep tabs on people and uncover their secrets, one of the best ways to do that is by tracking their text messages.
Don't take our word for it, but many secret government agencies and private investigators swear by text messages as one of the most reliable ways to catch suspects and obtain sensitive information.
In this dossier, we'll show you a highly reliable way to read someone else's text messages. We recommend this method to several others because it has the lowest entry bar and yields tangible results.
Table Of Contents
Why May You Need to Read Text Messages From Another Phone?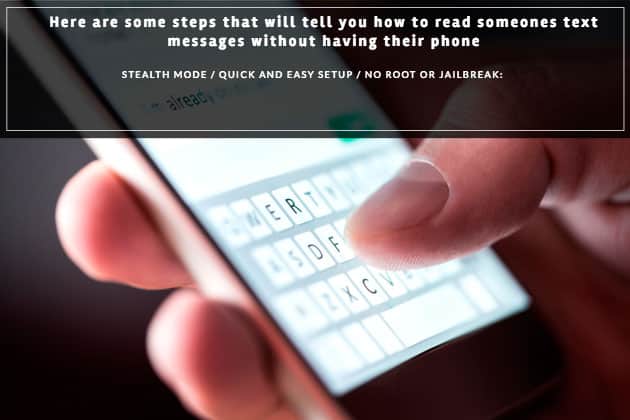 The method of tracking other people's text messages we're about to show you works like magic. In fact, it's a very powerful tool, and we wouldn't want it to get into the hands of the wrong people. There are a lot of reasons why people may be interested in spying on someone's messages, and the most common ones are the following:
Parental Control
As parents, you understand the risks that your kids face out in the real world far much better than they do. Sometimes, they may not see reasons with you when you advise against certain things. They may also hide things from you, not knowing that it could most likely come back to hurt them.
As such, it might be imperative to learn how to get someone else's text messages to ensure your kid's safety. 
Unfaithful Spouses
If your spouse has been acting strange recently, and you have a strong gut feeling that there's something they're not telling you, the best place to look for clues is their text messages. You should really consider this if they've been acting strange around their phones — like tucking it away when they catch sight of you or deleting their text messages every day.
Business Efficiency
In many cases, it's advisable to include text message monitoring as part of your employee monitoring policies. You shouldn't just rely on surveillance cameras placed only in sensitive areas like the cashpoint or till. You should also have eyes on their phone activities to ensure that they don't engage in unethical or unproductive conversations that may detract from your business goals and values.
How to Use an iPhone App to Read Text Messages Without the Person Knowing?
If you wonder how to get text messages from another phone sent to mine, the best solution would be installing one of the most prolific spy apps out there. mSpy takes out all the hassle of spying on text messages with a straightforward setup and remote operations.
All you need to set up mSpy is your target's iCloud credentials. Once you enter them into your mSpy dashboard, the app automatically syncs with your target's iCloud account, making copies of every file that's backed up on the target's iCloud account, including text messages.
Here's all you need to do:
Step 1. Register for Your mSpy Account
Open mSpy's official website on your phone, and then take a moment to register your account.
Step 2. Choose a Subscription Plan
Select a subscription plan that covers the period of your spying campaign.
Step 3. Enter Your Target's iCloud Credentials
Once you finish purchasing a subscription, you'll receive a confirmation letter detailing the next steps you need to take to set up the app. Once you have your user dashboard set up (usually in a matter of seconds), you'll then be required to enter your target's iCloud credentials.
You also need to ensure that the target's iCloud syncing is active and two-factor authentication disabled.
Step 4. Start Monitoring Your Target's Device
After that, you'll then have access to neatly cataloged updates of your target's phone data, including their text messages.
How to Spy on Text Messages on Android?
The process of using mSpy to get someone else's text message on Android is also quite straightforward. The only difference here is that physical access to the target phone is mandatory for the setup process.
Here's all you need to do:
Step 1. Create an Account on mSpy
If you don't already have one, sign up for the mSpy account at mSpy's official website.
Step 2. Choose the Device & Download mSpy
Check to see if your target's device is supported by mSpy. If it is, you'll then need to grab your target's device for a couple of minutes to follow through with the installation steps.
Step 3. Choose Your Plan
To activate your spying campaign, you need to select a subscription plan to cover the period you want to spy on your target's texts.
Step 4. Start Monitoring Someone Else's Text Messages
All these steps won't take you more than 5 minutes. Afterward, you can simply log into your user dashboard anytime, anywhere to view your target's text messages as well as other details of their phone activities.
Spy on Text Messages With Free Trial
If you just want to test the waters to see how spy apps work before forking out cash for a subscription, you're in luck. Unfortunately, mSpy has suspended their free trial, but instead, it offers you to use their demo version to try the text message feature as well many other top-notch spy features without paying a dime upfront. You'll get a good feel of the user dashboard and the whole operation of the app.
FAQ
What Is the Best App to Read Text Messages From Another Phone Without Them Knowing for Free?
That honor goes to mSpy, which has dominated the spy app industry for nearly a decade now. It comes with a straightforward setup process and a neat user interface. What's more? It provides well-rounded details of your target's text messages, including time and date stamps and the sender/receiver's identity.
Do I Need to Root the Target Android Phone to Check Messages?
If you want to read their instant messages from apps like Messenger, you need to root the Android phone.
Do I Need to Jailbreak the Target iPhone to Check Messages?
With mSpy, you can read text messages on iPhones from another phone without jailbreaking the iPhone. All you need is the target's iCloud credentials, which mSpy will use to access text message updates on their iCloud account.
Are Apps to Read Others' Texts Hidden?
Top-notch spy apps like mSpy will never give you away because they operate incognito round the clock. At no point in time do they produce any icon anywhere on the target phone's screen, nor do they use up any significant amount of data or memory space. 
Final Thoughts
There are swathes of different methods to get someone else's text messages, but using a spy app is our top recommended method. Unlike most other methods, you don't need steep technical expertise or frequent contact with the target's phone with spy apps.
With an app like mSpy, you'll learn how to see someone's text messages for free using a set-and-forget process. Once you take a few moments to set it up, it'll send you constant updates of your target's text message as well as other phone activities.