Although some might think that Instant Messaging (IM) applications act as the main tool for exchanging chats, emails still rank high regardless. For context, over 330 billion emails are sent daily.
One of the most revered and intuitive email programs is Yahoo Mail. You probably use it and love how easy it is to exchange emails with others. Although emails might seem like a nifty way to send and receive messages, it has certain adverse uses.
For context, your children can use emails to exchange sexual context with their counterparts. Also, your GF or BF might use Yahoo Mail to communicate with a secret lover.
With these sinister acts happening via email, you might want to look for a channel that'll give you full access to someone's email in an instant.
Agreed, you'll find numerous mediums on Google. But again, a question beckons – what alternative can you trust?
Not many. Most available options are just scams with a goal to access and compromise your financial data.
However, not all hope is lost as I'll disclose all there is to Yahoo Mail hacking and what channel you can adopt for 100% success.
Interested in learning more about Yahoo Mail password hacking? Read on as I deliver context into how to hack a Yahoo password without complications.
Table Of Contents
How to Hack Into Yahoo Email Without a Password?
Hacking someone's Yahoo account without a password might seem almost impossible. However, there's great news. With the advancement of technology, you can now get access to a target Yahoo Mail in minutes without using the passcode.
What's better? You can commence this action remotely. That way, you get to see the person's email exchanges without them ever knowing.
So, what's the preferred medium to get cracking? Spy applications!
Phone spying applications are essentially smartphone surveillance tools that'll help you monitor available data bits on the target's Android or iOS device.
For context, a spy application will give you access to a target's:
Incoming and outgoing calls
GPS location
Social media exchanges
Text messages
Emails (Gmail, Yahoo, Hotmail, and so on)
Keystrokes
Multimedia files
Most spy apps operate in 100% "Stealth Mode." Thus, you'll get to see someone's data without them knowing it's you.
Talk about convenience!
Speaking of tracking applications, one alternative you can rely on is mSpy. With the help of a tracker app like mSpy, you can view your target's Yahoo Mail activities from a distance.
Besides Yahoo Mail viewing, you can use this spy app to spot the target's real-time location, keystrokes, texts, call logs, and so much more.
Compatible with Android and iOS smartphones, mSpy ensures that your data is encrypted and protected as it operates in the target device's background.
But there's more to this top-tier spy app. Ride along as I give you an insight into its inner workings.
IMPORTANT: Before picking a phone spy application, familiarize yourself with the regulations relevant to your country. To avoid run-ins with the law, I advise hiring a revered technology attorney.
Why mSpy Is the Best Yahoo Password Hack App?
mSpy is a professional spy app that makes it easy for you to hack someone's Yahoo Mail password within 5 minutes.
Using this spying service, you can covertly access data on your target device from your home's comfort. mSpy also has 36+ functionalities in its résumé to ensure that you get the best spying adventure. 
Besides mSpy's vast feature list, here are some other qualities that place this spy app on the map:
Data Security
Unlike other spying applications, mSpy is a secure and safe platform. To make this feasible, this phone spying app integrates bank-grade encryption on its platform.
In an era where data breaches are regular, this add-on is valuable to mSpy users as it assures them that their information won't be tampered with by cybercriminals.
So, regardless of your activities on mSpy, you're 100% sure that you're protected by the site's safety add-ons.
DID YOU KNOW: In 2022, a fundraising site tagged "GiveSendGo" experienced a data breach that saw the information of 90,000 donors exposed. A DDOS attack caused this breach – a format that mSpy's bank-grade encryption can protect against 24/7.
No Technical Knowledge Needed
Using mSpy is quite simple, and you don't have to be a technical expert. To get started, register and follow the installation guide to the "T.'
Afterward, you can commence your Yahoo Mail spying acts with ease.
User-Friendly Dashboard
Among the most challenging aspects of developing a spying application is design. Knowing what information to offer to consumers is an art.
With mSpy, you can easily and efficiently manage and track information on your unique dashboard that you'll have access to upon registration and subscription.
The mSpy dashboard is clutter-free, allowing you to get ahold of the target's Yahoo Mail exchanges with a tap.
NOTE: You can see what mSpy's dashboard looks like in real-time by engaging its "Demo Mode" add-on.
Stealth Mode
mSpy operates in total stealth mode, so you don't have to bother about the target device owner finding out. This application can't be uninstalled by the user unless you permit it.
mSpy's "Stealth Mode" addition is great as most users seldom consent to be informed that their device or all of their previous activity is being monitored. If a target is aware, they'll resort to formatting their devices, thus restricting mSpy's access to any available data bit.
Multiple Forms of Data
mSpy ranks high for granting users unlimited access to almost every piece of information on the target's smartphone.
This spying application has over 36 functionalities in its résumé.
Thus, you'll get access to a target device:
Call logs (incoming and outgoing)
SMS texts
Emails
Real-time GPS location
Chats on social media platforms
Internet monitoring
Installed applications and programs
Multimedia files (images and videos)
Contact list and calendar
Phone Interception
As I've established, the mSpy application will grant you unlimited access to all data coming from the target cell phone. Whether they're texts, emails, calls, pictures, or videos, mSpy allows you to intercept them immediately after they appear on the target's device.
What's better? mSpy takes phone interception to the next level with its "Screen Recorder" feature.
This function delivers screenshots of what's happening on the target device's screen 24/7. Thus, you can view what your ward or spouse uses their Android and iOS devices for all day long.
Hack Yahoo Password With mSpy Features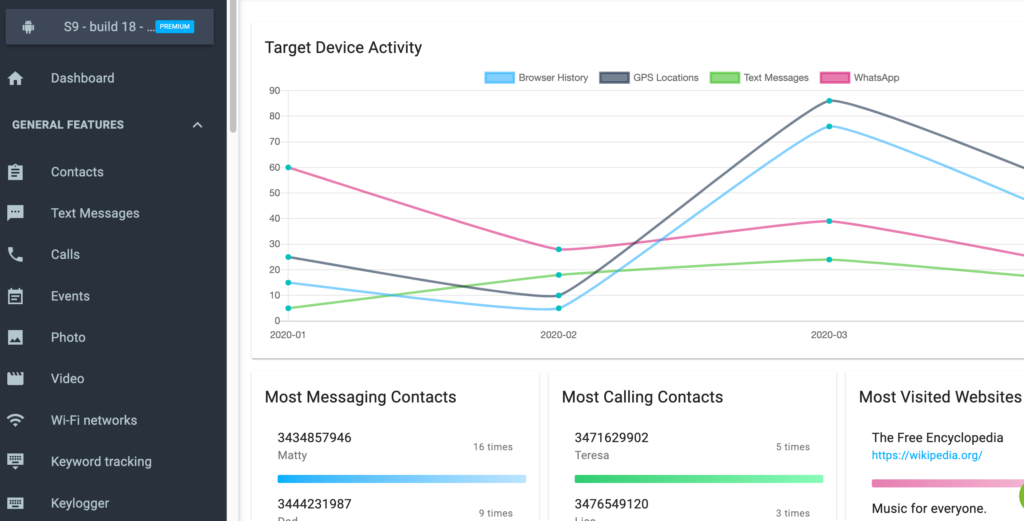 mSpy is committed to providing a remote mobile device spying solution that works right out of the box, is simple to use, and provides you with the information you want whenever you require it, all without leaving you baffled.
Although mSpy thrives on simplicity, its features reek of one thing – sophistication.
Here are some notable mentions:
Monitor Calls and Contacts
Do you worry that your child talked on the phone for an excessive amount of time? mSpy provides you with detailed information, including each caller's identity, the durations of these exchanges, and their timestamps (date and time).
If you feel that your ward or spouse conversing with a contact might spell doom, mSpy lets you block all calls coming from the person's number. 
Location Tracking
If you want to see where your spouse, kid, or employee is located in real-time, mSpy should be your go-to as it performs this delicate task with utmost efficiency.
Its real-time location tracking feature displays precise time and location information. With mSpy, you'll be able to see the target's current longitude and latitude.
It's that detailed.
mSpy also issues route history. Thus, you can track the locations the target visited some days or weeks ago.
What's better? mSpy makes real-time GPS location tracking easy with a standout add-on called "Geofencing Alerts." This top function allows you to set safe and dangerous spots on the map.
If your kid or partner enters any of these regions, you'll receive a notification on your mSpy dashboard.
Monitors Social Activities
The mSpy app keeps track of a target's social media conversation history. This monitoring program will keep an eye on someone's social media chats without them knowing.
With tons of social media channels available, the mSpy application will grant you unfettered access to the data bits available on the following platforms:
Skype
WhatsApp
iMessage
Facebook Messenger
Viber
Snapchat
LINE
Telegram
Tinder
Kik
Instagram
What's more?
You'll get information on all these applications without rooting (Android) or jailbreaking (iOS) a target's device.
Besides chats, you can view the phone records, media files, and contact (friend) list on the listed applications.
Keylogging
mSpy's Keylogger enables you to keep an eye on the target device's keystrokes from any location worldwide.
Using this add-on, you'll be able to see their texts and Google queries in real time. If you'd like to learn how to hack Yahoo Mail without a password, this feature is likely to come in handy, as it also gives you an overview of all their passcodes.
Revolutionary, right?
It gets better:
mSpy allows you to set keywords on the target's phone, as it'll be time-consuming to keep looking for "red flags" on your mSpy dashboard. Once you set a keyword and the target uses them in a text or Google search, mSpy will alert you immediately.
Advanced Files Explorer
If you'd like to see what files are on the target's Android or iOS cell phone, mSpy should be your go-to spy app.
This tracking service will deliver context to your ward or spouse's files (multimedia, installed programs, etc.).
You can also check for harmful data bits through this spying service and delete them remotely.
How to Hack a Yahoo Password in a Legal Way?
When used according to their terms of service, mSpy is legal. However, your country can play a role in mSpy's legality. 
Since it relates to covertly snooping on someone's cell phone, different regions have extremely varied rules.
There are clear guidelines about when phone spying is acceptable or prohibited in the US. Let's examine a few of the circumstances in which it is acceptable:
Family Members
Installing mSpy or another spy application on a family member's device to monitor their activities is legal.
However, some requirements must be fulfilled.
If the individual whose device you are tracking is one of your wards under 18, you're safe. Whether you inform your child that you'll be checking their cell phone or not is your choice.
Although telling your kids that you're actively spying on their devices will make them responsible for usage, it can also present a problem.
With tons of tutorials about spy application deactivation on the web, your wards might disable the mSpy app on their devices.
Thus, I'd advise you to keep your lips sealed.
Employees
Utilizing a spy tool like mSpy to monitor employees is another common practice. It'd be wonderful if we could rely on every adult who had a smartphone to use their work hours productively. However, this isn't always the case.
Many workers would be more than glad to waste hours each day checking Facebook, scouring the Internet, or doing something unproductive.
To boost your firm's output, you can track their unique corporate devices to see what they're up to while at the office.
But you have to let them realize that you're going to do that. It's unlawful to install a monitoring application on their work phones, and an employer who does this may be charged with a crime.
Spouses, Boyfriends, Girlfriends
If you want to spy on your spouse, be aware of the repercussions before using a program like mSpy or several other apps.
States have different laws. However, it is illegal to secretly access someone else's phone anywhere in the United States.
Additionally, it would be best to avoid seeking evidence of infidelity if you're hoping to gain more power during a divorce.
Why? Using a spy application would almost certainly result in inadmissible evidence.
Conclusion
Hacking Yahoo Mail without the password is a great method to monitor your partner, kids, or employees.
Although you'll find multiple approaches on the web, I'd advise executing this act with a top-tier spy application.
With numerous alternatives available, I recommend the mSpy app. This sophisticated spying service will easily hack anyone's Yahoo email password within minutes.
Head to the official mSpy website today and see what subscription discounts are up for grabs!