People always look for a way to read the text messages on someone else's mobile phone without touching it. Well, as a matter of fact, you can do this but with the help of a spy app. The rate at which the software technology is advancing, spy apps are accessible to anyone wanting to keep an eye on their near ones like family or friends.
How to Read Another Person's Text Messages
All you need to do is to install the app on the target phone without the knowledge of its owner and then sit back and let the app do its job. The working mechanism of mobile spy app is very simple. When in place, the app will collect the data and upload it on the website which will be accessible only to the user having the correct password to that account. Once installed, the app vanishes in the background i.e. by no way can the owner of the device come to know about the functioning of such an app in his/her mobile phone. It will frequently send the data to the account which you can access at your convenience.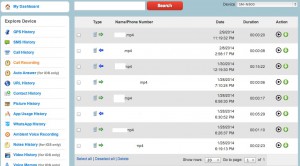 Track Text Messages from Another Phone Is Possible with Special App
One such spy app is iSpyoo which is very popular among the users. When you have the iSpyoo app then you have to look no further as this will satisfy all your spying needs. Here are some of the features offered by iSpyoo:
Access text messages remotely
Track mobile location
Tracking of iMessages and Whatsapp
Access to media files stored in the device
Record of call history
View phone contacts
Read Another Person's SMS APP