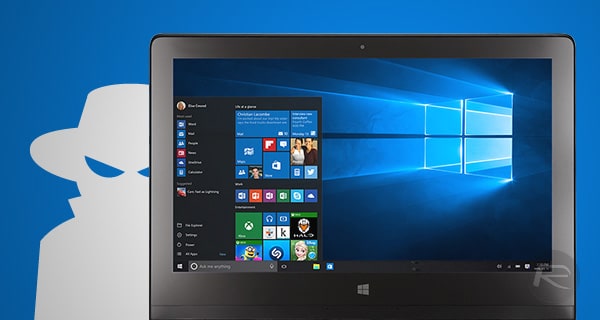 Microsoft Windows operating systems are insanely popular are over the globe and it is also one of the most pirated software in the history of computers too. Windows XP ruled the industry for almost a decade and then the company made a blunder in Windows Vista but the newer version Windows 7 made angry users forget everything. Windows 7 is the most widely used desktop operating system today, even though two new versions of Windows have been released.
Yes, we said two; As Windows 10 is finally here and users with compatible computers and laptops can get it from Microsoft Store. Before the Windows 10, the previous version Windows 8 failed to get users' attention as it should be and as the company expected. The reason behind that failure is debatable as the company made many mistakes there; for instance, removal of famous Start Menu was a mistake that company didn't expect.
Table Of Contents
Additional tracking features of new OS
However things seem now in order as Microsoft is confident about its latest operating system and according to the company itself, there is a reason they have skipped the Windows 9. And this statement is partially true as Windows 10 does things that no previous Windows platform did; for example spying on its users. Yes, that's correct. If you are reading this on a Windows 10 computer or laptop, then beware the operating system is spying on you and it knows everything you do.
This is entirely your fault that you don't know that already because the company described everything in their terms of service document; didn't you read that? Probably no one ever read terms of service document ever. Windows 10 comes with a 12,000 terms of service document that is almost 25 pages.
Long story short, it says that Microsoft has now access to contents on your computer that includes messages from apps like Skype, emails, private folders and everything else. Although the company respects users' privacy and it has no intentions to inspect users' private data but the company may hand over that information and data to law enforcement agencies if necessary.
Of course as a Windows 10 user you would be pissed off but fortunately there is solution of this problem and you can stop Windows 10 to spy on you and gather your private data and information. Windows 10 has given users features and power over this whole thing so you can shut it down but amazingly by default users are opted in for releasing that information to the company. It means if you haven't shut it down then it is spying on you.
How to restrict Windows from spying
In order to stop Windows 10 to spy on you, open Settings and navigate to Privacy settings. There are 13 different sections there and each one of them has privacy settings. From those 13 sections you can turn on and off privacy features you want and don't want. However most of the options that you might want to change are in the General section. From other sections you can change system behavior toward privacy; for example you can decide which apps can access which type of data on your computer.
If you don't want to use Cortana then turn it off because it sends information, data and activities to the server. Microsoft's latest browser Edge also steals and uses personal information and data to show targeted ads. You can turn this feature off from the settings menu by disabling options for Personalized Ads in browser and Personalized Ads on my Microsoft account.
Many experts suggest people shouldn't use their Microsoft account on Windows 10 at all but they should use a local account because the company can sync all of the data across different computers with the same account.